Tania Tsanaklidou Οnly the Songs Are Left – A musical production with songs from the theatre
July 8, 2016 @ 9:30 pm

-

11:00 pm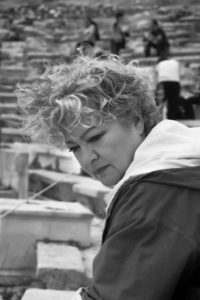 What makes a theatrical production unique, over and beyond any artistic value it may have, is the fact that it is recorded on our hearts and minds alone—nowhere else. And that allows memory to make choices, confusing people and roles, filling the silences with tales from life. We forget the details of the plot and our remembered images fill with shadows. Time has frozen. Only snapshots are left and images filled with shadows from old photographs.
Then you hear a song from a production you can barely remember and, suddenly, there's Melina large as life climbing the steps from the Basement to the moon!
The actors are back in character and everything is in place once more on stage. However many years go by, songs have the power to breathe new life into mythic figures and tales confessed to the gods one night beneath the stars.
Tania Tsanaklidou